Website > CSUB > Spring 2019 Courses
Bill Kelley, Jr.  Ph.D.
Assistant Professor, Latin American and Latino Art History
California State University Bakersfield
Art & Art History Department
​
Office Hours
Lecture Bldg. 103
Tuesday  10-11am / 3-4pm  
Wednesday  9:30-10:30am 
Thursday  10-11am / 3-4pm
Contemporary Directions in Art
Tue/Thu 8:30 – 9:45
Lecture Bldg. 100
Modern and Contemporary Art in Latin America
Tue/Thu 11:30 – 12:45 
Classroom Bldg. 104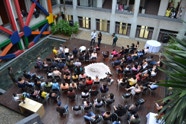 Social Practice: An Introduction
Tue/Thu 1:00 – 2:55 
Visual Arts 103
Textbooks:
David Hopkins, After Modern Art 1945-2000 
(Oxford University Press, 2000).
​
Terry Smith, Contemporary Art: World Currents. (Pearson Publishers, 2011).
​
Documents:
Textbook:
Barnitz & Frank, Twentieth Century Art of Latin America: Revised and Expanded Edition (University of Texas Press, 2nd edition, 2015)
​
Documents:
Textbook:
Pablo Helguera. Education for Socially Engaged Art: A Materials and Techniques Handbook. 
(Jorge Pinto Books, 2011).
​
​
Documents:
Survey of Western Art History, c. 1400 to the Present
Tue/Thu 4:00 – 5:15 
Donahue Hall 100G
Textbook:
Fred S. Kleiner, Gardner's Art Through the Ages: The Western Perspective, Vol 2. 15th edition.  (Wadsworth/Cengage, 2016)
​
Documents: